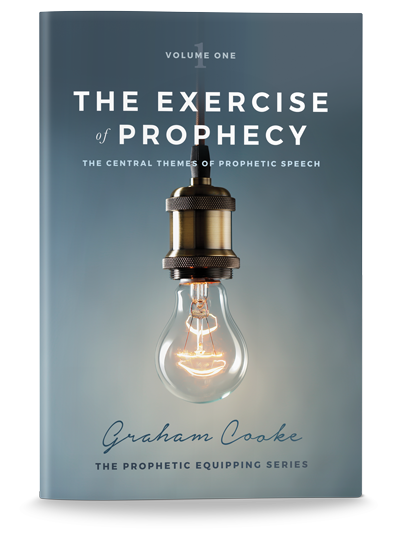 Do you feel called to the prophetic?
Would you like to know God's heart for you and journey with encouragement and confidence?
Through exercises, anecdotes, case studies, and Scripture, Graham Cooke will walk you through the steps of moving in the gift of prophecy to experience and express the love and kindness of God and be a catalyst for encouragement in your community.

Do you want a prophetic culture that expresses God's heart to the community?
The gift of prophecy is focused on the restoration of relationship and fellowship with God so that confidence, trust and faith can develop at a higher level.
If you feel a pull in your spirit to connect to the fullness and abundance of God, then it is time to get in tune with His heart for you and the dream He has for your life.
In The Exercise of Prophecy, Graham Cooke provides practical, step-by-step, guidelines that will enable you to stay aligned with God's passion for prophetic encouragement and includes reflections, exercises and assignments, and an activating workshop. Plus, Graham finishes each book with a prophetic word to propel your journey forward.
The Exercise of Prophecy will teach you the guidelines and development you need in order to be in alignment with the Father's heart of Prophecy over your life and the lives of people around you.
Join the growing number of people stepping into the lifestyle of encouragement, prophecy and blessing that will bring health and wholeness to a hurting world.
Learn to be in tune with the heart of God
The Exercise of Prophecy is a rework of Module One from Graham's acclaimed book, Approaching The Heart of Prophecy. It contains assignments, case studies, a workshop and finishes with a Prophetic word.
The intention behind this new edition is to create a guide for those stepping into Prophecy for the first time. The material has been remastered and designed to be more accessible to a beginner or someone needing to brush up on the basics of what Prophecy means in their life.
"Graham Cooke's new book Approaching the Heart of Prophecy, is destined to be one of the most practical tools the Holy Spirit will use to enrich and deepen the lives of many who desire to move more powerfully in the gift of prophecy. I love the way the book is structured and the very practical applications and readings at the end of the chapters... It will be hard to find a more practical book to help you grow in prophecy."
"Truly awesome! This book is prophetic voice that has embraced the loving nature of God and the season of grace that Jesus ushered in on the cross. The reader will clearly understand why prophetic judgement is not an option today and why God will not speak in a way that belittles or devalues a believer's life. Every word spoken in the name of God should be spoken in the hot pursuit of love and for lifting our head so we might gaze into the beauty of Father's tender loving eyes. "
"Graham Cooke's writings and teachings always leave me hungering and thirsting for more – more of God, more divine revelation, more understanding of God's heart, ways, and values. His writings whet my appetite for the deep things of the Spirit because the truths Graham presents come alive within my heart. Approaching the heart of prophecy is full of divinely inspired revelatory treasures ... I love this book!"
"I received a new level of faith in the prophetic reading this book. Graham reveals the intentionality of God's love and encouragement toward us, and makes it clear how we are to hear His voice, know His heart, and prophesy confidently."
"... God will surely use the new book as a tool to shape the skills and disposition of a new generation of prophetic voices. This new generation will have the ability to collaborate with one another and the throne room in a manner that will build a canopy of agreement between heaven and earth. Asaph taught his musician sons how to flow in the prophetic anointing of David's tabernacle, and I believe Graham's counsel will tune the instruments of the sons and daughters that God is raising to flow in the prophetic tabernacle that covers us in these last days."
"I've always enjoyed Graham's writings and public ministry. His recent bitesize, interactive format is just in time for a faster thinking, activational and demanding generation. He makes me think and take time to pause with insights that act as keys, unlocking my own creativity. Keep those keys coming... let's see what treasures lie ahead."
Author of Experiencing Father's Embrace
Develop confidence in God for your own journey with The Exercise of Prophecy
All Rights Reserved © 2019 Brilliant Book House.